The AUDIOBOOK of Masonic Kung Fu is just being released.  The story of two Chinese teenagers in 1937 as the Japanese begin WWII by invading China.  A British Freemason becomes their assassin.
Check it out!  I think I did a real good job writing the book and recording the audiobook.  I was an active Freemason from 2007 to 2014.  I became the "Organist of the Lodge" as was Mozart for his lodge–except I played guitar and flute for the meetings and ceremonies.  When I became "Assistant Secretary of the Lodge" I uncovered facts and details about the Japanese occupation of China.  American newspapers wouldn't print stories in the USA so the Freemason Journalists travelled between American Mason Lodges providing the information to the brethren.  I found records of these lectures and information quoted from the journalists.
Available EXCLUSIVELY at www.Audible.com
ORIGINAL Podcasts of Shaolin Zen from 2006
Shaolin Kung Fu LIFESTYLE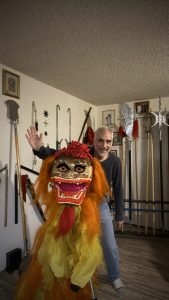 Join my Shaolin Kung Fu and Yang Tai Chi Chuan workouts.
I am going to complete the video series of the entire Shaolin Chi Mantis BEGINNER PROGRAM of four semesters in 2021.  Each semester is progressively harder.  I've completed the first 160 videos of the 350 videos needed.
Semester 1:  

Tai Chi Chuan Short Form

, SCM Standing Stretch

Semester 2:  

Luohan 1

Kung Fu Form over 1,200 years old

Semester 3:  

Ling Po

, SCM Yoga and STAFF TRAINING!!!

Semester 4:  

Small Circular Fist

, Qigong and more STAFF TRAINING!!!
This Shaolin Chi Mantis BEGINNER PROGRAM is difficult, enlightening, and empowering.  It is an amazing program.  
Can you do it?  Can you keep up WITH ME???
Are you capable of being as physically fit as a 67-year old senior?
An American sect of Chinese Chan Buddhism™